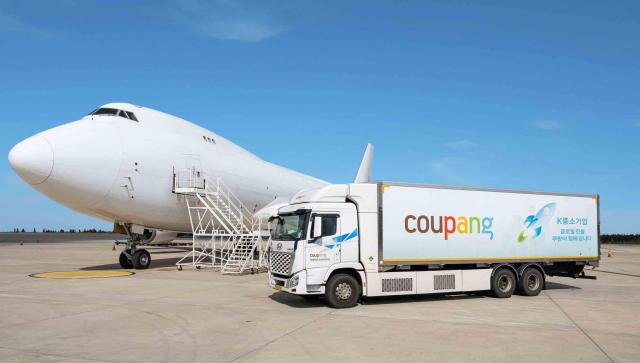 SEOUL -- Coupang, the South Korean counterpart of American ecommerce giant Amazon, has marked the company's highest-ever quarterly sales of $6,183,550,000 (about 8.2 trillion won) in the third quarter of 2023. The company succeeded in maintaining its sales momentum that had accelerated during the COVID-19 pandemic when consumers used convenient quick online grocery delivery services instead of visiting offline shopping malls.

The ecommerce company also known as the South Korean counterpart of Amazon started its business in 2010 as an ordinary online shopping mall that offers larger discount rates for more popular products. During the pandemic, Coupang upgraded its overnight delivery services to compete against retail giants such as Shinsegae, GS Retail, and online service giant Naver and to become the main player in South Korea's fierce ecommerce market.

The overnight grocery service called "Rocket Fresh," uses fulfillment centers, small-sized logistics centers capable of maintaining cold-chain delivery service networks, to deliver fresh goods such as vegetables, fruits, meats, and other products that need to be delivered cold. When a customer makes an order before midnight, ordered groceries would normally arrive at the customer's doorsteps early in the morning.

Coupang's convenient lightning-speed delivery service garnered extreme popularity among working people and housewives who do not have enough time to visit shopping malls and cook. The Rocket Fresh delivery service became essential for many South Koreans who were grounded due to strict government-issued quarantine guidelines that discouraged people from visiting crowded places such as markets, megastores, and restaurants.

Coupang said during an earnings call on November 8 that the company recorded sales of $6,183,550,000 in the third quarter of 2023, up 21 percent from the same period in 2022. This is the first time for the company to record quarterly sales of more than 8 trillion won. Coupang's operating profit increased by 13 percent on-year to stand at $87,480,000. The net profit was $91,300,000, up one percent from the same period in 2022.

"We were able to achieve record-breaking sales by focusing on the improvement of customer experience and excellency of management," Coupang CEO Kim Bom-seok said.

© Aju Business Daily & www.ajunews.com Copyright: All materials on this site may not be reproduced, distributed, transmitted, displayed, published or broadcast without the authorization from the Aju News Corporation.