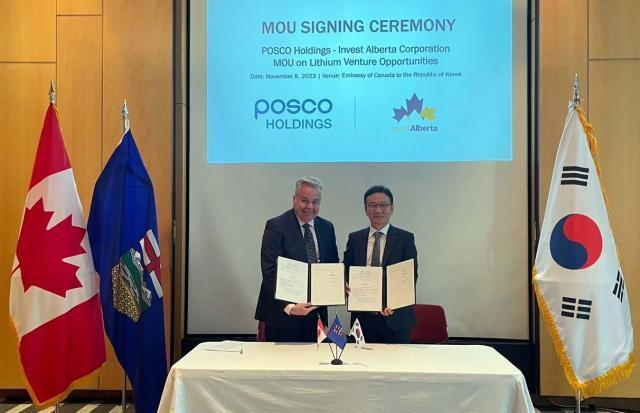 SEOUL -- POSCO Holdings, the holdings company of South Korea's steelmaker POSCO, has partnered with a private investment company based in Alberta, Canada, to develop and commercialize businesses that include the extraction and processing of lithium from oil field brine.

Oil field brine is salt water often found in and around underground oil wells. Although they are a typical byproduct of oil and natural gas, they were mainly thought useless due to impurities containing dissolved salts, minerals, and other substances.

However, through research, lithium, a type of mineral vital for producing high-performance batteries mainly used in electric vehicles, can be extracted from the underground saline water found in some specific geological spots. Oil field brine is pumped, evaporated, precipitated, filtered, and refined into pure lithium through complicated processes.

POSCO Holdings said that the company signed a memorandum of understanding with Alberta Invest Corporation (IAC) to cooperate in the development and commercialization of oil field brine-based lithium businesses.

The steelmaker's holdings company will seek partners for the mining of lithium, analyze mining sectors appropriate for lithium extraction, and demonstrate the extraction of lithium from underground saltwater. IAC will provide administrative support and bridge POSCO Holdings and other business operators.

Alberta is a western Canadian province known for its oil and shale gas production. The province was also found to have one of the world's largest oil field brine reservoirs. "We will strengthen our lithium supply chain through a strategic partnership with IAC and solidify our position in the global secondary battery market," POSCO Holdings' secondary battery business division head Lee Kyung-sub said in a statement on November 8.

© Aju Business Daily & www.ajunews.com Copyright: All materials on this site may not be reproduced, distributed, transmitted, displayed, published or broadcast without the authorization from the Aju News Corporation.