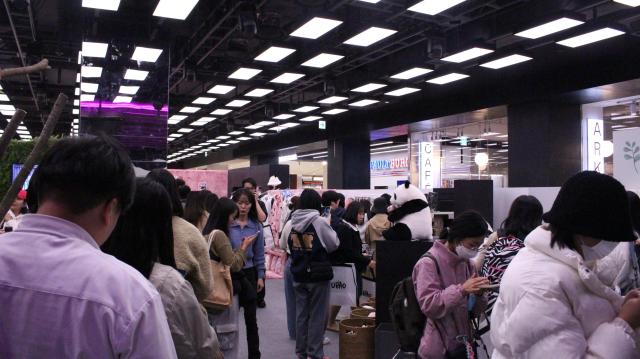 SEOUL -- Dressed in casual jackets and coats, young South Koreans in their 20s and 30s flocked to a pop-up store featuring Fu Bao, a three-year-old YouTube celebrity Chinese panda currently living at a zoo in South Korea. Despite the windy weather on the first day of the pop-up store event, about 800 people competitively raced to make a reservation to enter the store, filled with Fu Bao-related apparel, accessories, and cups engraved with a picture of the female panda. About 70 percent of customers were women in their 20s.

The animal superstar currently resides in Everland, a popular theme park run by Samsung C&T, a South Korean construction and engineering company. Thanks to the popularity of videos showcasing her growth from infancy, Everland's official YouTube channel recently surpassed 1.1 million subscribers. Fu Bao's photo essay book, published in 2021, has achieved sales of 24,000 copies as of August this year.

Fu Bao was born to her father "Le Bao" and mother "Ai Bao" in July 2020. Her parents were sent to South Korea by Chinese President Xi Jinping in 2016 as a gesture of friendship. Although Fu Bao was born and raised in South Korea, she must return to China in 2024 to search for a male partner. The Chinese government has sent more than 70 pandas to 21 countries, but they should all return to China when their loan contracts expire.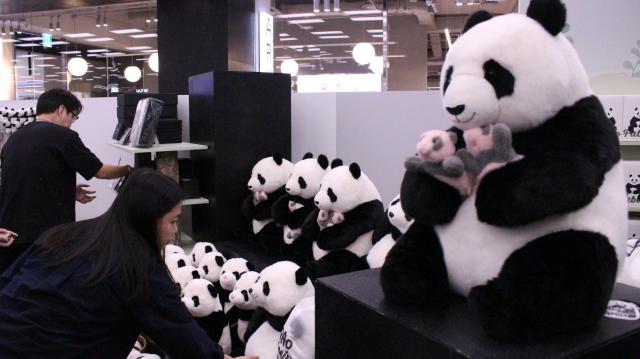 "My eyes turned red because I spent too much time making a reservation for this pop-up store event," Roh Hye-seong, a 34-year-old businesswoman, told Aju Korea Daily in front of the event spot in Yeouido, a river island in the Han River that flows through Seoul. She added: "Despite the discomfort, I'm thrilled to explore this place." The visitor, who had an interview while waiting in line, took a leave from her company just to attend the event.

Roh's primary objective was to acquire a limited-edition key ring with the image of the baby panda born with a weight of 197 grams. The pop-up store had a limited stock of 197 key rings, all crafted from premium leather to commemorate the panda's birth. Each product costs 60,000 won ($45.7).

"I arrived here alone, but while waiting in line, I had the chance to meet three fellow Fu Bao enthusiasts. We quickly formed a strong friendship as we are united by our shared passion for the Chinese panda," she expressed her joy. One of her new friends named "Song Hye-young" said she came from Cheonan, located some 84.1 kilometers (52.2 miles) south of Yeouido.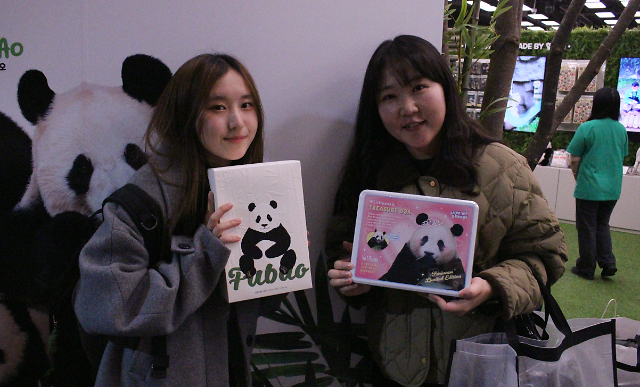 "As a Fu Bao lover, I feel so happy to work here. Whenever I look at Fu Bao photos while working, it brings me a sense of rejuvenation," said YJ Lee, a staff member at the pop-up store. The employee said she feels heartbroken that the pada is returning to her parents' hometown soon.

Some couples were taking selfies in photo zones with images of a bamboo forest and wooden benches. "I became a big fan of Fu Bao while watching her video content on social media and decided to come here with my girlfriend," said a 23-year-old college student Lee Jun-yeop. The couple lives in the southern port city of Busan which is about 321 kilometers south of the pop-up retail shop.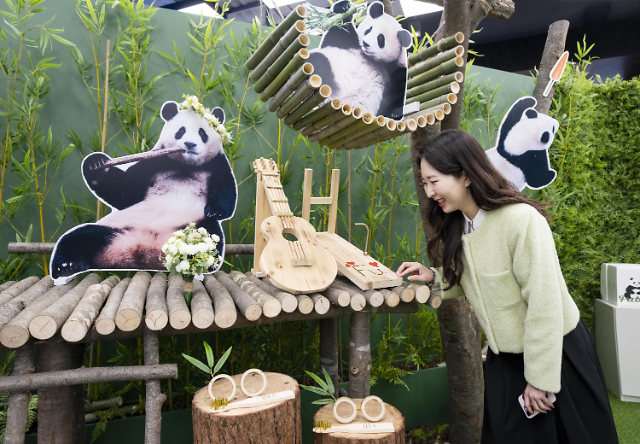 More than 100 types of products, including blankets, plush toys, and cushions were available at the 24-day experimental shop that opened on November 9. An autograph session to mark the publication of an essay book written by Fu Bao's zookeeper Song Young-kwan will be also held during the event period. Song is currently taking care of the panda with his fellow zookeeper Kang Cheol-won. A YouTube video showing the panda spending her time with Kang has garnered some 21 million views since it was uploaded in June 2021.

Pre-bookings for shop entry sold out within just five minutes of opening. On-site reservations will be available from November 14 to 16 and then again from November 20 to 22.

© Aju Business Daily & www.ajunews.com Copyright: All materials on this site may not be reproduced, distributed, transmitted, displayed, published or broadcast without the authorization from the Aju News Corporation.