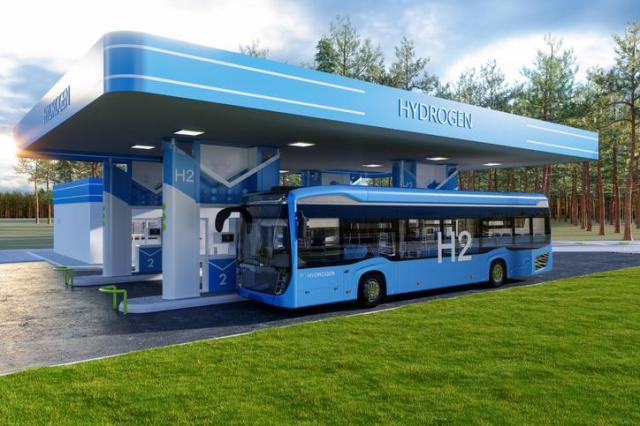 SEOUL -- SK E&S, an energy wing of South Korea's SK Group, has partnered with the central city of Cheonan to develop and establish infrastructure for hydrogen fuel cell buses and hydrogen charging stations.

South Korea is currently undergoing a structural change in a bid to reduce the country's dependency on fossil fuels and adopt clean and renewable energy systems. Hydrogen buses are part of South Korea's big picture to go green and clean energy vehicles are being operated nationwide.

However, administrative bodies and private energy business operators find it difficult to establish infrastructure for hydrogen charging stations due to public fear that such facilities could cause horrific accidents involving heavy casualties. It is useless for hydrogen vehicles if charging stations are not accessible because they are far away, but many people refuse to have hydrogen charging stations established in their residential areas.

SK E&S said that the company signed a cooperation agreement with Cheonan City to establish eco-friendly hydrogen infrastructure to help the city become a "green city." Through the agreement, Cheonan City will adopt 350 hydrogen buses, including city and intercity buses, by 2027 and cooperate with SK E&S to establish a network of hydrogen charging stations.

The energy company will start producing liquefied hydrogen at a production facility in the western port city of Incheon by the end of 2023. Some 30,000 tons of liquefied hydrogen will be produced annually, SK E&S said.

© Aju Business Daily & www.ajunews.com Copyright: All materials on this site may not be reproduced, distributed, transmitted, displayed, published or broadcast without the authorization from the Aju News Corporation.