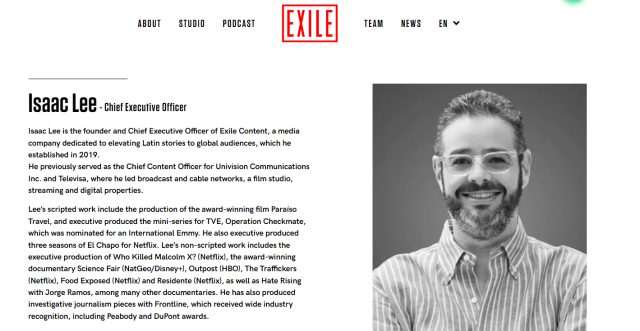 SEOUL -- Isaac Lee, a Colombian-American content creator who produced the Netflix crime thriller series "El Chapo," has been picked to lead a Mexico-based subsidiary of Hybe, the agency of BTS. The veteran producer will create content tailored to the Latin American market and collaborate with global agencies.

Data released by Hybe showed that the Latin American music market reached about $1.3 billion in 2022, up 26.4 percent from a year ago. Spanish language-based songs were the second most popular music in the United States after English in the first half of 2023, a report published by Luminate, a U.S.-based entertainment data provider, showed. English content was the most popular music, accounting for 88.3 percent, followed by Spanish with 7.9 percent.

Isaac Lee is currently the head of Exile Content, a Latin American content production company based in Los Angeles. Before the establishment of Exile Content, he led TelevisaUnivision, the world's top Spanish-language media company. He has also taken part in the production of various films and documentaries featured on Netflix and Amazon Prime Video. Along with El Chapo, Lee is known for producing a famous Netflix documentary series "Who Killed Malcolm X?"

Hybe said in a statement that Lee was selected to lead its new subsidiary "Hybe Latin America." The new branch in Mexico will be used to create new content and nurture new artists targeting the Latin American market. The agency is considering combining K-pop features with various genres of Latin music.

According to Hybe, there were 19 Spanish tracks among 35 non-English songs ranked in the top 10 of the Billboard Hot 100, a weekly song chart that ranks the top 100 popular songs. The 19 songs include Despacito, a song by Puerto Rican artist Luis Fonsi, and "I Like It," a song by Puerto Rican rapper Bad Bunny. Bad Bunny collaborated with American rapper Cardi B for the song, which combines English and Spanish.

© Aju Business Daily & www.ajunews.com Copyright: All materials on this site may not be reproduced, distributed, transmitted, displayed, published or broadcast without the authorization from the Aju News Corporation.