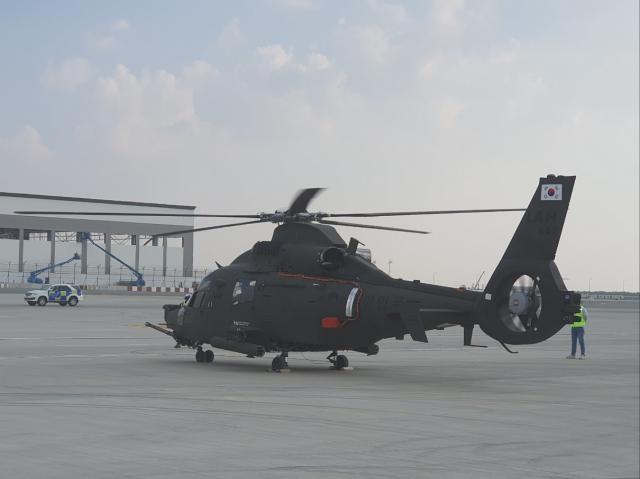 SEOUL -- At a global air show in Dubai, South Korea's state arms procurement agency will showcase its light-armed helicopter, designed to replace an aging fleet of light helicopters such as MD500s and AH-1S Cobra. At the biennial event, sponsored by the United Arab Emirates government, more than 1,400 companies from 95 countries will present technologies in aviation, astronomy, and military capabilities.

The light-armed helicopter (LAH) was developed by Korea Aerospace Industries (KAI), the sole aircraft maker in South Korea. The aircraft producer won final approval in November 2022 to produce LAHs with an injection of 5.75 trillion won ($4.34 billion) by 2031. The LAH, carrying a 20-millimeter (0.7 inch) machine gun and four anti-tank missiles or 70mm rocket pods, can fly at a maximum speed of 324 kilometers (201 miles) per hour.

The helicopter also passed a nine-week field test in a Canadian territory with an average winter temperature of minus 32 degrees Celsius (minus 25.6 degrees Fahrenheit) to assess its effectiveness and suitability for combat in February 2022, about four years after a prototype was released in 2018.

The Defense Acquisition Program Administration (DAPA) said the LAH will be demonstrated at the Dubai Airshow 2023 between November 13 and 17. Along with the LAH, the South Korean arms procurement agency will also showcase a homemade transport utility helicopter called "Surion."

"The participation of Surion and LAH in the Dubai Airshow will mark a milestone in the export of domestic helicopters," stated DAPA Minister Eom Dong-hwan on November 13. The agency highlighted that this is the first instance of domestically manufactured rotary-wing aircraft being showcased at an airshow in foreign countries."

© Aju Business Daily & www.ajunews.com Copyright: All materials on this site may not be reproduced, distributed, transmitted, displayed, published or broadcast without the authorization from the Aju News Corporation.