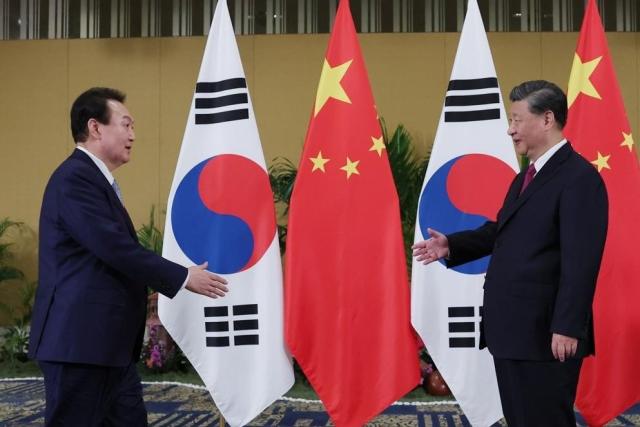 SEOUL -- South Korean President Yoon Suk-yeol will embark on a three-day journey to San Francisco to attend a summit meeting for the Asia-Pacific Economic Cooperation, an economic forum that involves 21 member countries in the Asia-Pacific region. The inter-governmental forum will also be attended by Chinese President Xi Jinping.

Tensions between Seoul and Beijing escalated in 2017 due to the deployment of the Terminal High Altitude Area Defense (THAAD) system by US troops in South Korea, despite Beijing's strong protests. While China did not formally announce any measures, there was a noticeable decline in Chinese tourist visits to South Korea, and widely enjoyed South Korean products such as cosmetics and video content were removed from offline and online stores.

According to an official from the South Korean presidential office who spoke on condition of anonymity on September 24, President Xi said that he would seriously consider visiting South Korea to open new possibilities for the rehabilitation of diplomatic relations between Seoul and Beijing. The improvement in the relations was indicated by China when Beijing allowed tourist groups to visit South Korea in August 2023. There were individual Chinese tourists to South Korea since the deployment of THAAD but group tours were banned.

In September 2023, Yoon met with Chinese Premier Li Qiang during his journey to Indonesia for summit meetings for the Association of Southeast Asian Nations (ASEAN). The South Korean president suggested to Lee a joint initiative aimed at denuclearizing North Korea and cooperating to hold the South Korea-China-Japan trilateral summit.

The presidential office said Yoon will participate in the APEC summit in San Francisco between November 15 and 18. However, the office has not disclosed whether the bilateral talks with China will take place during the summit period. South Korean Ambassador to China Chung Jae-ho earlier said he is discussing with the Chinese side to hold the trilateral summit with China and Japan at the end of November.

Yoon is set to give a lecture at Standford University on November 17 with Japanese Prime Minister Fumio Kishida. The joint lecture will cover topics related to South Korea and Japan's collaboration in high-tech fields and South Korea-U.S.-Japan relations. In August 2023, Yoon agreed with leaders from the U.S. and Japan to meet at least once a year and build a real-time warning system for North Korea's missiles at the trilateral summit meeting held at Camp David, the official U.S. presidential retreat near Washington, D.C.

© Aju Business Daily & www.ajunews.com Copyright: All materials on this site may not be reproduced, distributed, transmitted, displayed, published or broadcast without the authorization from the Aju News Corporation.