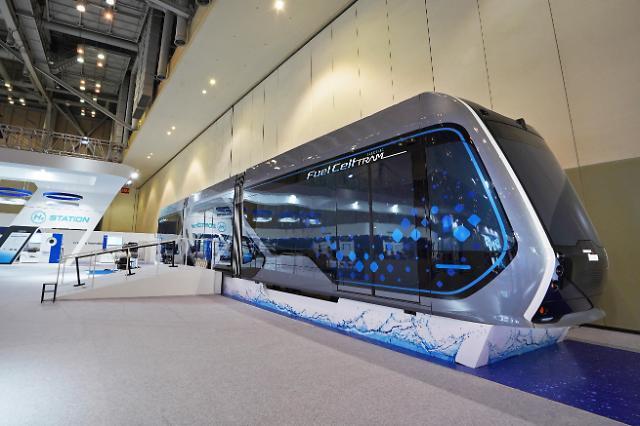 SEOUL -- An urban hydrogen-electric tram was demonstrated in South Korea's southeastern industrial port city of Ulsan as part of a state program to commercialize hydrogen-powered trains. The project, designed to establish green mobility infrastructure and promote urban trams, is led by Hyundai Rotem, a train-making subsidiary of South Korea's Hyundai auto group.

Urban trams disappeared in Korea in 1968. After the first tram line started its operation in Seoul in 1898, tram networks reached their peak in the 1940s when the Korean peninsula was under Japan's colonial rule. However, the number of trams dwindled due to the popularization of other transportation such as buses.

In 2021, Ulsan won final approval from South Korea's industry ministry to demonstrate a hydrogen-electric tram equipped with a 400-kilowatt fuel cell module that can travel up to 200 kilometers (124 miles) with a single charge at a top speed of 70 km per hour. Some 42.6 billion won ($32.1 million) will be invested in the project which also involves the state-run Korea Railroad Research Institute, the Korea Automotive Technology Institute, and Ulsan Technopark.

Ulsan said on November 14 that its hydrogen-electric tram has carried some 200 people from Ulsan Port Station in the southeastern region to Sambi Crossroad Station, some 4 km away from the starting point. "Ulsan's urban railroad, which will be adopted in the future, will be operated by hydrogen-electric trams. We will become the first hydrogen city in the world where hydrogen electric trams are used as public transportation," said Ulsan Mayor Kim Du-gyeom.

Demands for trams are resurging as they are cheaper to install than subways. In 2020, South Korea's southern port city of Busan revealed its plan to build a tram network that covers 1.9 km and serves five stops by 2025. Seoul will also set up a tram line with a total length of 5.4 km that connects Wirye, a planned new town area in southeastern Seoul, to a satellite city of Seongnam. Ultra-low-floor electric track vehicles will begin operation in September 2025.

© Aju Business Daily & www.ajunews.com Copyright: All materials on this site may not be reproduced, distributed, transmitted, displayed, published or broadcast without the authorization from the Aju News Corporation.