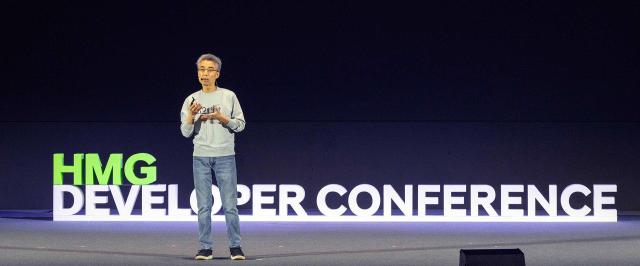 SEOUL -- Hyundai auto group has shared the carmaker's vision that is centered on the driving experience of software-defined vehicles. The auto group revealed a roadmap in 2022 to reveal its plan to transform all vehicles to vehicles that can be continuously upgraded and have new features added through the development of software.

A software-defined vehicle (SDV) is a future-generation car that constantly evolves to remain up to date. New vehicle functions can be added or existing features can be modified through software upgrades that are carried out using physical wires or over-the-air (OTA) wireless software update features.

Tesla, the world's top electric vehicle maker, is the pioneer of supporting OTA updates for vehicles. The American EV company started utilizing its OTA capabilities in 2012 and various performance and features are being continuously updated and improved. South currently regulates the operation of OTA services by carmakers. Only those who have applied for the government's regulation exemption program are allowed to provide pre-selected OTA updates to customers.

Hyundai held the "HMG Developer Challenge," a developer forum, in Seoul on November 13. Developers from the Hyundai auto group and affiliated companies participated in the event to share their insights.

"SDV refers to a 'paradigm shift in development methodology' that applies the development approach defined by software to vehicle development," Hyundai's SDV division head Song Chang-hyun said.

"Through a fundamental shift in the paradigm of vehicle development, ultimately, the software will be able to define not only the driving performance of the car but also convenience functions, safety features, and even the brand identity of the vehicle," Song said.

The Hyundai SDV head pointed out that through the current hardware-based vehicle development method, it is hard for carmakers to provide overall user experience from a holistic perspective but also hinders the delivery of the latest kinds of experiences that a smartphone would provide to its user. He also mentioned that this environment soon becomes a limiting factor for developers in the mobility sector to implement new features.

To overcome these challenges, the Hyundai auto group plans to focus on various initiatives – the decoupling of hardware and software, and standardization of architecture to establish an agile value delivery system that can promptly meet and update market requirements.

"We will establish a standardized vehicle software framework to support seamless connections with external developers, fostering a new dimension of development ecosystem where anyone with ideas can implement killer apps and services related to mobility," Song said.

"Through the SDV transformation of the Hyundai Motor Group, we hope to provide freedom of movement to many people, breaking down the constraints of time and space, and enabling them to engage in more valuable pursuits," the Hyundai SDV division head said.

© Aju Business Daily & www.ajunews.com Copyright: All materials on this site may not be reproduced, distributed, transmitted, displayed, published or broadcast without the authorization from the Aju News Corporation.