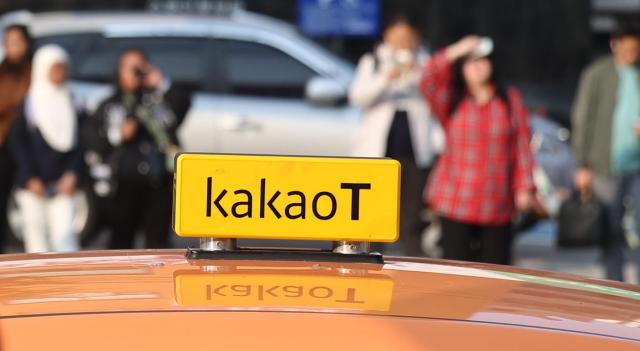 SEOUL -- Kakao Mobility, the mobility service wing of South Korea's web service giant Kakao, will introduce a new service plan for affiliated taxi business operators and individual taxi drivers that would offer a lowered royalty fee of less than three percent. The current plan demands a royalty fee of about 20 percent from affiliated taxi companies and drivers.

Kakao Taxi was first introduced to South Korea in 2015. The service is now integrated into Kakao T, Kakao Mobility's one-stop mobility service app with some 12 million monthly active users (MAUs). South Korea's taxi industry is operated by taxi companies, which operate a fleet of taxis driven by employees, and individual taxi drivers who have the license plate for an individual taxi service operator. Kakao receives about 20 percent of total sales from taxi companies and individual drivers as a royalty fee and pays back about 15 percent as a cooperation fee.

The sudden move by Kakao Mobility came 12 days after President Yoon Suk-yeol criticized the country's favorite taxi-hailing service operator. "The abuse by Kakao in the taxi industry is highly unethical. The government must certainly devise sanctions and measures against such unethical behavior," Yoon said during a town hall meeting on November 1.

Yoon said that the government must regulate such a situation, claiming that Kakao attracted taxi companies with low fees at the start of the service and then raised the fee when the taxi-hailing service became extremely popular. The president openly criticized Kakao Mobility's action as being unethical.

After a series of meeting sessions with taxi industry officials and affiliated companies, Kakao Mobility released a statement late at night on November 13 and said that the company will prepare new business plans for affiliated taxi companies and individual drivers by the end of 2023. The plans will include lowered royalty fees of about three percent of total sales. "We will guarantee to provide options for existing affiliated taxi business operators to choose the new plan," Kakao Mobility said.

The mobility service company also promised to come up with improvements in its service through discussions with a consortium of taxi business operators and taxi labor unions by the end of this year. The improved system will include an upgraded customer-hailing system for taxi drivers and an improved work environment for taxi drivers.

© Aju Business Daily & www.ajunews.com Copyright: All materials on this site may not be reproduced, distributed, transmitted, displayed, published or broadcast without the authorization from the Aju News Corporation.