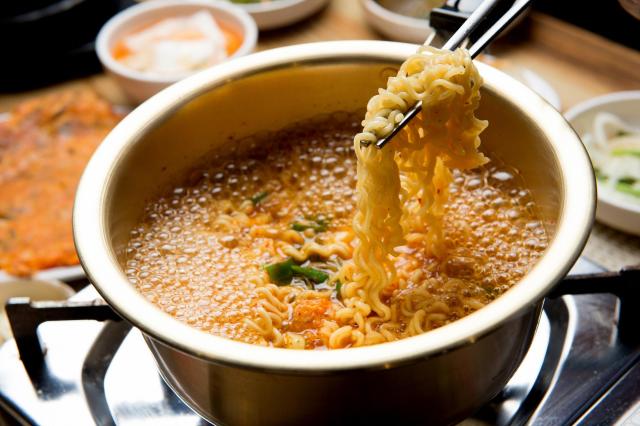 SEOUL -- Exports of South Korean instant noodles known as Ramyeon soared 24.7 percent year-on-year to a record high of $785.2 million (1.1 trillion won) between January and October in 2023, state data showed. This year marks the 60th anniversary of the release of South Korea's first instant noodles in 1963.

According to data released by the Korea Customs Service, exports of Ramyeon packs totaled $785.2 million during the first ten months of this year. The largest importer was China with some $174.4 million. The United States was the second-largest with $107 million, followed by Japan with $48.66 million and the Netherlands with $48.64 million. The export amount to the United Arab Emirates (UAE) recorded $12.24 million, ranking 15th, the highest among the Middle Eastern Nations. Saudi Arabia ranked 18th with $8.99 million.

South Korea's major food company Nongshim experienced a significant surge in Ramyeon sales in 2020, thanks to the popularity of "Ram-don," a mixture of two different instant noodles originally known as "Jjapaguri." The instant noodle was used to portray the rich-poor gap in Parasite.

BTS member Jimin has received immense attention for showing himself eating "Hot Chicken Flavor Ramen," an extremely spicy Ramyeon known as fire noodles, through live streaming content. Fire noodles, created by Samyang Foods, a food maker credited for showcasing South Korea's first instant noodles in 1963, are especially popular in Southeast Asia. Samyang captivated Southeast Asian consumers with its halal-certified fire noodles that are considered to be safe and clean under Islamic standards.

To meet growing global demands for South Korean instant noodles, Samyang has built a smart factory with an annual capacity of 600 million instant noodles. Using solar cells, the automated factory can generate about 436 megawatt-hours per year. The renewable electricity power plant can power some 436,000 households. Nongshim is operating two plants in the U.S. with an annual capacity of 850 million Ramyeon packs.

© Aju Business Daily & www.ajunews.com Copyright: All materials on this site may not be reproduced, distributed, transmitted, displayed, published or broadcast without the authorization from the Aju News Corporation.