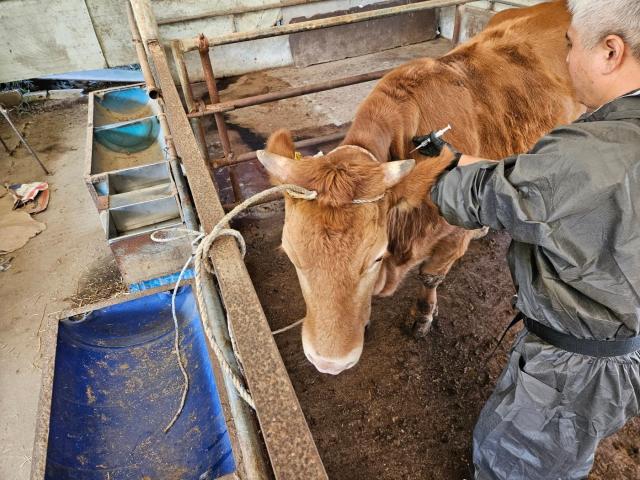 SEOUL -- A total of 106 lumpy skin disease cases were reported as of November 20, South Korea's animal disease control tower said. The infectious cattle disease has reached the eastern province of Gangwon to infect a cattle farm that breeds traditional Korean cows for premium beef.

Lumpy skin disease (LSD) is a viral infection that spreads through blood-feeding insects like flies, mosquitoes, and ticks. A cow infected with the virus usually shows symptoms of high fever, skin nodules, enlarged superficial lymph nodes, and lumps measuring up to five centimeters (about two inches) on the skin. The mortality rate is less than 10 percent and the disease does not transmit to humans.

The disease normally takes place in the summer and early autumn when the temperature is high and the air is humid. While many cattle attain long-lasting immunity after recovering from LSD, some farmers vaccinate their cattle to prevent the animals from catching the disease. The first-ever case of LSD was found in the southwestern part of South Korea on October 20.

The animal disease control headquarters said that a cattle farm in Goseong County in Gangwon Province was found to have been infected with the disease. The LSD virus was also found in North Gyeongsang Province on November 14, alerting farmers and animal health authorities in South Korea's largest cattle farm central with some 850,000 cows, which is about 21 percent of the total cattle capacity of South Korea.

When a cattle farm is found to have been infected with LSD, all infected cows will be culled and the farm will be isolated for four weeks to prevent further infection. Currently, the government is vaccinating cows throughout the country.

© Aju Business Daily & www.ajunews.com Copyright: All materials on this site may not be reproduced, distributed, transmitted, displayed, published or broadcast without the authorization from the Aju News Corporation.