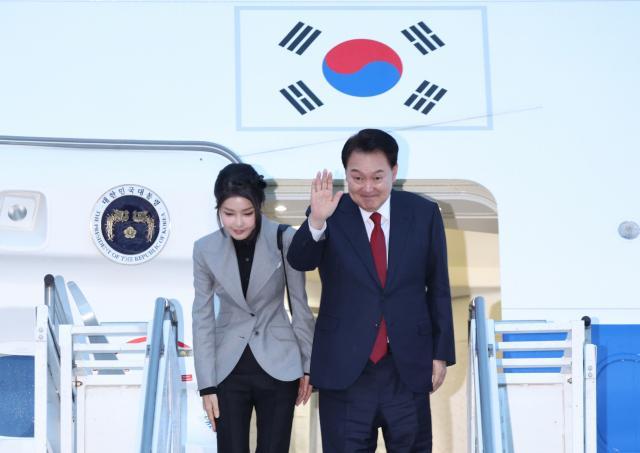 SEOUL -- South Korean President Yoon Suk-yeol departed for London to meet with King Charles III only two days after returning from San Francisco where he attended the Asia-Pacific Economic Cooperation summit. After completing his journey, designed to celebrate the 140th anniversary of diplomatic ties with Britain, Yoon will visit Paris to support South Korea's bid for the World Expo 2030.

In November 1883, Britain established diplomatic relations with the Joseon dynasty that ruled the Korean Peninsula from 1392 to 1897. The United Kingdom (UK) was the second Western country that set up diplomatic ties with the last dynasty of Korea, followed by the United States which signed a treaty in 1882.

An aircraft carrying Yoon and First Lady Kim Keon-hee left for London at 10:45 a.m. (local time) on November 20. After arriving in London, the South Korean leader will attend a meeting with South Korean compatriots. On November 21, the president is scheduled to participate in a welcome lunch hosted by the British king and give a speech at the British Parliament.

On the third day of the state visit, Yoon will take part in a business forum and science conference. He will then discuss with British Prime Minister Rishi Sunak ways to improve free trade agreements and explore partnerships in various sectors, including artificial intelligence, defense, and nuclear energy.

Yoon will stay in Paris between November 23 and 25 to ask for the global community's support to host the 2030 World Expo in South Korea's southern port city of Busan. The Bureau International des Expositions, a Paris-based intergovernmental organization in charge of the World Expo, will determine the location for the global economic event on November 28. South Korea is currently competing with Italy's Rome and Riyadh in Saudi Arabia.

© Aju Business Daily & www.ajunews.com Copyright: All materials on this site may not be reproduced, distributed, transmitted, displayed, published or broadcast without the authorization from the Aju News Corporation.