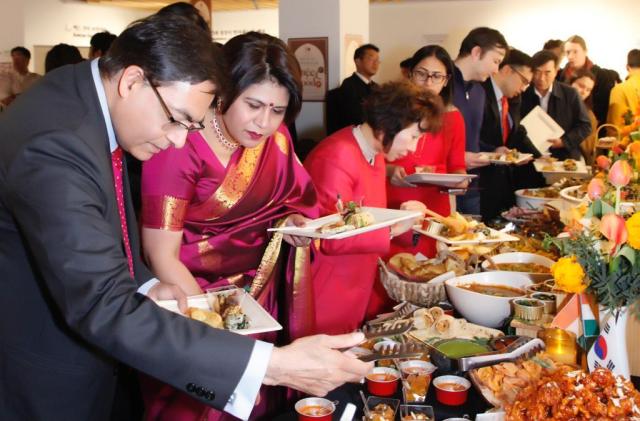 SEOUL -- The Indian Embassy in Seoul has worked with South Korea's agriculture ministry to promote Indian cuisines at a street food festival in Seoul. Various Indian dishes were showcased such as "Jalebi," an Indian treat resembling funnel cake, and "Gajar Halwa," a pudding dessert, along with Gimbap, a Korean dish of rice, vegetables, and meat wrapped in sheets of laver. The event was held to celebrate the 50th anniversary of the establishment of diplomatic ties between South Korea and India.

The street food festival was launched at E:eum, a cultural center for Korean food located in Seoul's office district Jongno, to promote Indian street food on November 14. During the 47-day event, visitors can explore the two nations' food, dance, and artwork. Anyone can enter the event spot for free.

The Indian Embassy in Seoul said it has prepared many different types of Indian street food such as Jalebi and Gajar Halwa. The street food festival also offers "Japchae," a Korean stir-fried noodle dish with beef and various vegetables, and Korean-style fried chicken "Dakgangjeong."

On November 17, there will be a special cooking class featuring India's Vada Pav, a popular dish comprising a spiced potato dumpling fried in gram flour batter. Participants will learn how to make this iconic Indian street food along with Korean spicy rice cake dish "Tteokbokki" and Gimbap consisting of Korean barbecue "Bulgogi."

In 2022, South Korea's exports to India saw a significant increase, reaching $18.8 billion, marking a 21 percent rise compared to the previous year. Imports rose 10.5 percent year-on-year to $8.9 billion from $2.6 billion. The key export items from South Korea included semiconductors and steel plates, while imports comprised petroleum products and aluminum. During a summit in May 2023, South Korean President Yoon Suk-yeol and Indian Prime Minister Narendra Modi agreed to enhance collaboration in the bio-health, space, and defense sectors.

© Aju Business Daily & www.ajunews.com Copyright: All materials on this site may not be reproduced, distributed, transmitted, displayed, published or broadcast without the authorization from the Aju News Corporation.