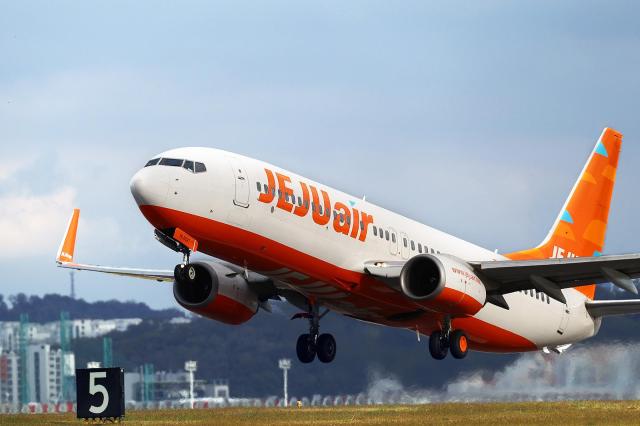 SEOUL -- A total of about 681,200 people traveled to overseas countries using Jeju Air, a major South Korean low-cost carrier (LCC), in October 2023. The number of Jeju Air's international flight passengers increased by three percentage points compared to the number of travelers who used the LCC in October 2019, a couple of months before the first wave of the COVID-19 pandemic hit South Korea.

When waves of the pandemic swept across the globe in 2020, almost every country in the world had closed its borders to prevent the spread of the infectious disease. It was nearly impossible for ordinary people to travel to other countries because such access was only allowed for those who met strict quarantine requirements.

During the pandemic, grounded South Koreans turned their attention towards domestic travel destinations. The number of domestic travelers who visited at least one tourist spot in the first quarter of 2023 has recovered from the level of the pre-pandemic period. In a survey of 26,000 South Korean people, conducted by market analyst Consumer Insight, about 68 percent have traveled to at least one domestic tourist spot in the first quarter of 2023. In 2020, when the country suffered from the epidemic, only about 58 percent of people traveled domestically.

Jeju Air said that a total of 4,196 international flights carried 681,187 passengers. The number of the LCC's international flight passengers increased by three percentage points compared to 661,186 in October 2019. The air carrier said that the company flexibly controlled the number of domestic and international flights to meet growing demands.

Data released by South Korea's main gateway Incheon International Airport showed that some 6.4 million South Korean people visited foreign countries in July 2023 and about 1.7 million people visited Japan. Jeju Air said that about 21 percent of its international passengers visited Japan between January and October.

According to data released by the Korea Tourism Organization (KTO), some 3.12 million South Korean tourists flew over to Japan in the first half of 2023, accounting for the largest portion of the total number of foreign tourists with 29.2 percent. South Korea's neighboring country became a popular tourist spot for South Koreans after all coronavirus-related travel restrictions were lifted this year. The low exchange rate of the Japanese yen has also made traveling to the island country more affordable. The won-yen currency exchange rate stands at 11.52 yen to 100 won ($0.08).

© Aju Business Daily & www.ajunews.com Copyright: All materials on this site may not be reproduced, distributed, transmitted, displayed, published or broadcast without the authorization from the Aju News Corporation.