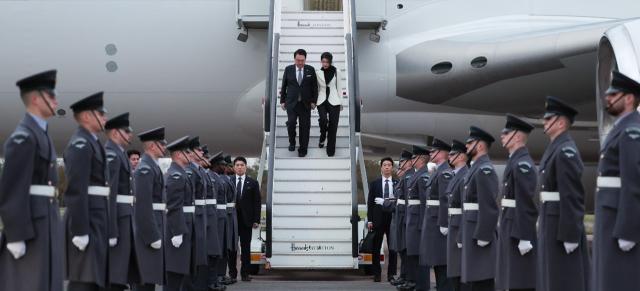 SEOUL -- South Korea will commemorate the 140th anniversary of the establishment of diplomatic relations with Britain and elevate the bilateral relationship between the two countries from the existing "broad and creative partnership" to a "global strategic partnership," South Korea's presidential office said.

In November 1883, Britain established diplomatic relations with the Joseon dynasty that ruled the Korean Peninsula from 1392 to 1897. The United Kingdom (UK) was the second Western country that set up diplomatic ties with the last dynasty of Korea, followed by the United States which signed a treaty in 1882.

South Korean President Yoon Suk-yeol, who is currently visiting Britain for a four-day state visit, will meet British Prime Minister Rishi Sunak, the presidential office said on November 21. The two leaders will discuss the adoption of the "Downing Street Accord," which emphasizes the joint stance of South Korea and Britain on issues such as the development of North Korean nuclear weapons and other situations that revolve around the Korean Peninsula as well as expressing shared intentions on addressing global challenges like the situation in Ukraine, the Indo-Pacific, and the Middle East.

The two countries will also share their plans to collaborate on strengthening the rules-based order in the international community through coordination on multilateral stages such as the UN Security Council, G20, and G7, the presidential office said. President Yoon will also speak with his counterpart to jointly enhance the two countries' defense capabilities by signing a memorandum of agreement on joint defense exports and the expansion of joint training activities.

In the economic sector, Seoul and London will initiate negotiations to improve the existing South Korea-Britain Free Trade Agreement (FTA). The two leaders will also sign a memorandum of understanding (MOU) on semiconductor cooperation to build a robust supply chain for the future.

After the state visit to Britain, President Yoon will stay in Paris between November 23 and 25 to ask for the global community's support for South Korea's southern port city of Busan in a bid to host the 2030 World Expo. The Bureau International des Expositions, a Paris-based intergovernmental organization in charge of the World Expo, will determine the location for the global economic event on November 28. South Korea is currently competing with Italy's Rome and Riyadh in Saudi Arabia.

© Aju Business Daily & www.ajunews.com Copyright: All materials on this site may not be reproduced, distributed, transmitted, displayed, published or broadcast without the authorization from the Aju News Corporation.